Buy the Book!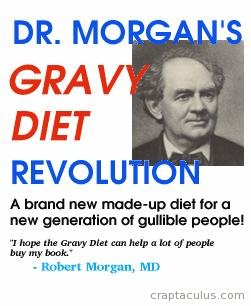 From the creator of the Revolutionary Pork Diet and the Revolutionary Starvation Diet comes a brand new Revolutionary Diet:
The Revolutionary Gravy Diet!
Mainstream Science laughed at the Gravy Diet for many years after its introduction, but studies have now shown many people can lose significant weight by avoiding carbohydrate-rich foods which aren't gravy, and now scientists are finally paying attention.
Dr. Robert Morgan -who is a scientist- reports in The New England Medical Journal of Meat-based Sauces: "Starting the Gravy Diet unleashes your body's natural ability to burn stored fat, leaving you Slim, Trim, and Gravy-Thin™."
Dr. Morgan, who is also the head of the Gravy Diet Research Center and author of nearly two books, notes that "Where many diets fail, this diet succeeds!"
Now that the rest of medical science has been proven wrong and the Gravy Diet has helped over 3 million Americans lose many unsightly pounds, everyone believes in the Gravy Diet!
More Gravy Diet Information
Gravy Diet Products